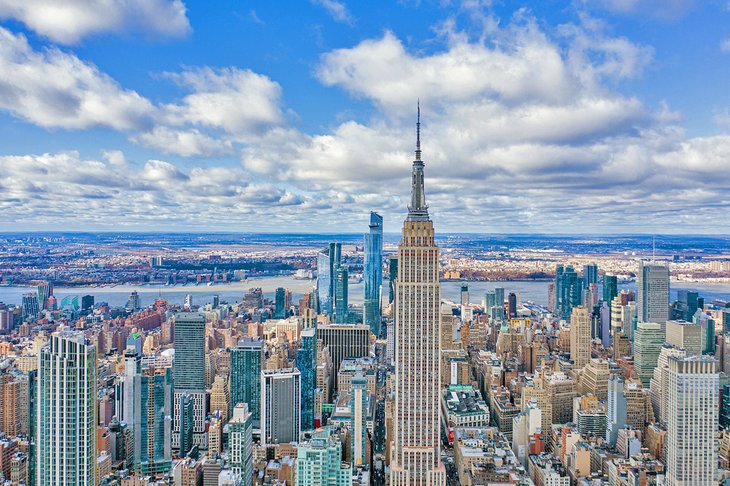 As one of the major cities in the worlds of art, fashion, food, and theater, New York is a city every traveler must visit. Whether you're coming on a day trip or an extended stay, choosing what to see and do is the hardest part – the possibilities are endless.
Explore the richness of all five boroughs
Visitors who think that New York is just Manhattan miss out on the sights and activities that the city's other four boroughs have to offer. Visit the New York Botanical Garden and the Bronx Zoo in the Bronx. Choose from a wide variety of ethnic restaurants in Queens. Explore Brooklyn's thriving neighborhoods in Williamsburg, Green Point, and Red Hook. And remember, no trip to New York is complete without a ride on the Staten Island Ferry; You can also take the opportunity to visit the Staten Island Museum in Snug Harbor.
Give your regards to Broadway
The world's most famous street cuts a 13-mile (21-kilometer) diagonal trail from Bowling Green at the southern tip of Manhattan to Inwood, where it crosses into the Bronx. There is no better way to capture New York's variable atmosphere and changing landscape than to walk 50 blocks on a good day. Broadway is also short for the 41 major theaters in Manhattan that cluster around Times Square. Catch a show while you're here.
Stand in awe of the skyscrapers
Few experiences are as humble as walking down a Manhattan street with skyscrapers towering above you. From 1930s landmarks like the Empire State Building and Chrysler Building to the World Trade Center (also known as the Freedom Tower), completed in 2013, these gigantic beauties must be seen to be believed. The views from the Empire State Building aren't just breathtaking, day and night; They also convey a sense of the city's vastness within the context of the surrounding land; On a clear day, five states can be seen from the observation deck.
Get your fill of international and experimental food
New York is a foodie's paradise. An estimated 23,000 restaurants in the city serve 60 international dishes. Chefs are always innovating, whether it's combining old-school recipes with new ideas for main meals, or creating new desserts that people will queue for hours to try. stop for a cronut at Dominic Ansel in Soho; Try Frankel's Delicatessen in Green Point, Brooklyn, which chills Jewish food by eating pastrami, eggs, and cheese sandwiches; Or visit the world famous Katz's Delicatessen on the Lower East Side for something more traditional.